Advent, Christmas and Epiphany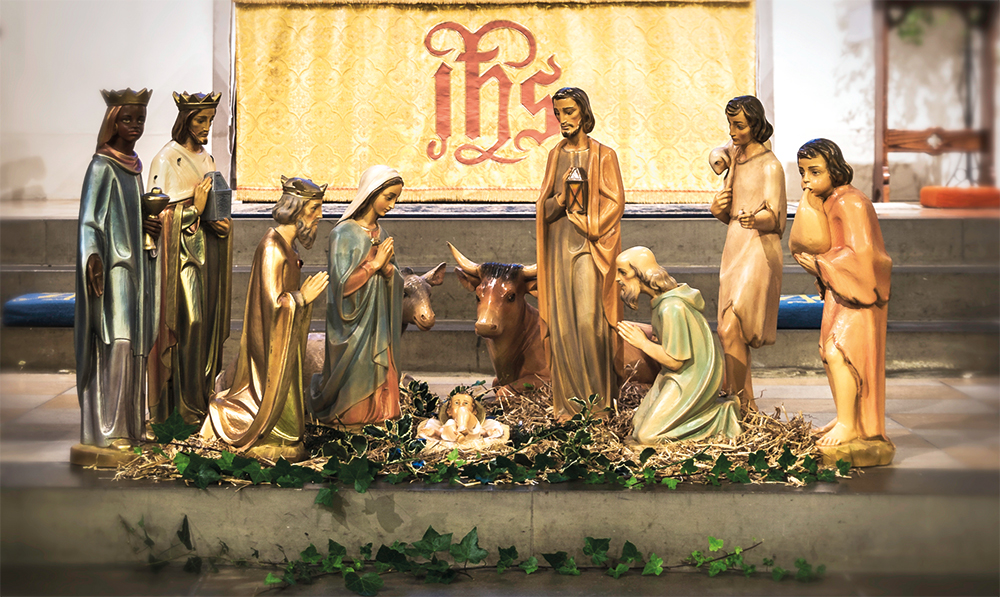 ADVENT 
N.B. the dates are corrected from the previous year each autumn as the Advent & Christmas Schedule is agreed. The dates below pertain to 2016)
Advent Sunday
Advent begins with Evening Prayer on Saturday 27th November once the church has been restored to normality after the Christmas Fayre. This is a special time when all is quiet and the ancient hymn "Creator of the stars of night" is sung. This hymn, sung to plainsong, also begins our 9:30am Parish Mass at St Mary & St Giles and the 11:00am Family Mass at All Saints. At each Mass a child lights the first candle on the Advent wreath and the adults are asked to whom the candle is dedicated when it is lit.
At 6:00pm in St Mary & St Giles, on the same evening a traditional candlelit 'Advent Carol Service' is celebrated. The church is in darkness as the Choir sing the Matin Responsory and gradually the light (candlelight) spreads towards the altar. Many of us may have participated in this beautiful and very popular traditional Advent Liturgy in Cathedral Churches.
Saturday 3rd December 10:00am – 12:00 noon Coffee Morning with a musical theme  in aid of the Organ Fund.
Wednesdays (7th, 14th & 23rd) December
7:30pm Mass  in St Mary & St Giles followed by an extended period of Silent Prayer during Exposition of the Blessed Sacrament concluded with Benediction
Saturday 10th December 3:00pm: MK Youth Choir will give a concert in St Mary & St Giles Church
Tuesday 13th & Wednesday 14th December Russell School will hold their Nativity Plays in St Mary & St Giles Church at 10:00am each day.
Thursday 15th December 12:30pm: another of our popular lunchtime concerts at St Mary & St Giles Church. Bring your lunch and enjoy the music – tea & coffee provided.
Thursday 15th December 7:00pm: "Cowleys" Funeral Director – a memorial service in St Mary & St Giles in memory of those whose Funerals have taken place in the past year
Friday 16th December
9:30am St Mary & St Giles School Carol Service in Church.
Sunday 18th December
As well as the 9:30am Parish Mass at St Mary & St Giles, at
4:00pm there will be a Children's Nativity Play & Carols at St Mary & St Giles.
6:00pm A traditional Carol Service will be held at All Saints Church in Calverton and much preparation is being made to use candles within lanterns and to make this a really special service in a beautiful church where its mosaic of the Adoration of the Christ Child by the Magi reminds us of the real meaning of the Incarnation.
Tuesday 20th December
7:00pm JS Cowley & Son Funeral Directors' Annual Memorial Service at St Mary & St Giles with the Northampton Male Voice Choir
Tuesday 20th and Thursday 22nd December 7:30pm: Carol Singing around the Parish
Each year we try to cover some of the areas of our Parish and to raise money for our Advent Appeal, which this year supports the MK Winter Night Shelter Project (see the noticeboard in St Mary & St Giles for the meeting point on each evening)
CHRISTMAS 2016
Saturday 24th December (Christmas Eve)
4:30pm Christingle Service at St Mary & St Giles Church
THE NATIVITY OF THE LORD
11:30pm Midnight Mass at All Saints Church
Sunday 25th December (Christmas Day)
Christmas Morning
9:30am Parish Mass of the Lord's Nativity at St Mary & St Giles
EPHIPHANY
Sunday 8th January 2017
The Epiphany of the Lord:  9:30am Parish Mass at St Mary & St Giles & 11:00am Family Mass at All Saints